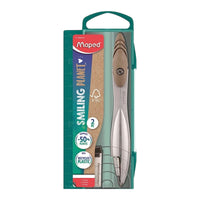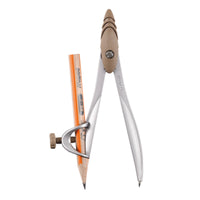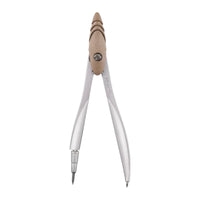 Maped Smiling Planet Study Compass
Metal universal holder compass with a head and pencil screw that is composed of 50% FSC-certified wood fibres
This responsible composition reduces the amount of plastic by 50%. Ergonomic shaped head with a textured grip making it comfortable to hold and ensuring a precise result.
This compass is made of strong and long lasting metal legs, which provides good grip and rigidity to draw beautiful circles.
Slide your pencil into the universal ring, tighten the screw, choose the right angle, apply your safety point and draw a perfect circle!
You can replace the pencil with another school supply such as a pen, coloured pencil or felt-tip pen allowing you to draw circles in all colours.
The Smiling Planet school supply collection offers children and teenagers the essential back-to-school accessories while being responsible and committed to the planet.